Jack Kelly, Founder & Principal, Corlea Group
LinkedIn: http://www.linkedin.com/in/jackkellysd
Twitter: @corleagroup
I'm out to change the world, one Sales Professional at a time. No more bait and switch, no more selling just to get the deal. Instead, a lot more listening and connecting measurable value to your product or service.  No more lazy sales amateurs, only motivated, accountable, integrity driven Sales Professionals who decide every day to elevate themselves.
Experience: 25 years of it since graduating from the University of San Diego in 1987. 18 years in B2B Sales, Sales Leadership and General Management.  7 years in higher education non-profit organizations.
Advanced Degrees: MS in Executive Leadership, 2006; University of San Diego
Greatest talent: Breaking people's shells/masks down so we can have a real conversation.
Skill I want to learn the most: Surfing (I'm a native Southern Californian who doesn't know how to surf!)
What I want to do when I grow up: Teach little kids, Pre-K or Kindergarten
What did I want to do when I was in Kindergarten:  Be a baseball player.
Greatest business accomplishment: The fidelity of my current & former employees
Best sale: KFMB from a cold call to close in my first quarter as a sales representative for Ceridian when I moved to San Diego 15 years ago.
Is cold calling dead?  Everybody says so, which is understandable but the first deal I closed for our client Commit was a cold call a couple of years ago.  There is a phobia of picking up the phone – it could be your differentiator!
Favorite Tool of the Corlea Group: Sales Activity Calculator.
Favorite Sales Book: Let's Get Real or Let's Not Play by Mahan Khalsa.
Favorite Business Activity: Presenting!
Best leader I never worked for: Author Hughes, President Emeritus, University of San Diego
Best leader you ever worked for: My father, John J. Kelly
Nadia Pandes, Associate, Corlea Group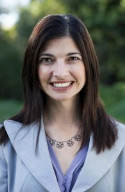 LinkedIn: http://www.linkedin.com/pub/nadia-pandes/9/759/a66
Nadia Pandes is the newest member of the Corlea team joining the company in February, 2010. Nadia's ability to ask the right questions and truly invest herself in the success of her clients has fueled her successful career including 10 years at Qualcomm and establishing Flexwork Connection here in San Diego.
Her expertise in process evaluation, creation and sales support provide the foundation for turning strategy into action.
Nadia received both her Bachelor of Business Administration and Master of Business Administration from the University of San Diego.