Okay, so it's the week before Christmas. The next two weeks are "slow" from a sales point of view.
Many of you are probably saying, "Nobody is making decisions right now because of the holidays. Between office parties andshopping or getting ready for their ski trips, everyone has checked out. _So since my buyers have checked out, I'm going to check out and just take it easy. After all, I deserve it."
Wow! Hopefully for you that is just your inside voice making that statement. At least I hope this is the case. If you made the mistake of thinking this way, I'll give you three reasons why this is the BEST time of year to be aggressively selling:
1) Decision makers are in the house! Generally, travel and appointments are at a minimum this time of year due to the weather and you guessed it – the holidays. This is when executives get things done because it is "quiet." The likelihood of them picking up the phone, or sitting down for the long- promised cup of coffee is much higher.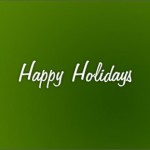 2) Budgets. You all must be very aware of the fact that either budgets have not been spent for 2011, or they have already been set for 2012. The deal may not close this year, but the long- awaited budget allocation you have been promised may have actually just happened; and if you are not reminding your client/prospective client about it now, your competition (or even your colleague) will be. Why not get a jump-start on quota for next year?
3) Lazy Sales Professionals. That's right, there are plenty of them out there suffering the year-end malaise I described above. Most of them are sitting on their laurels, deciding to sandbag for 2012 instead of selling. They have "hit their number" and the ski trip to Utah is calling their name. Chances are these same people will be saying, "Nobody really gets going until mid-January anyway." (I'll address this issue the first week of the new year).
If you do consider yourself a Sales Professional, don't "mail it in" now. You will be surprised how much progress you can make for next year. Who knows, you still could pull out quota for this year.
Happy Holidays!!